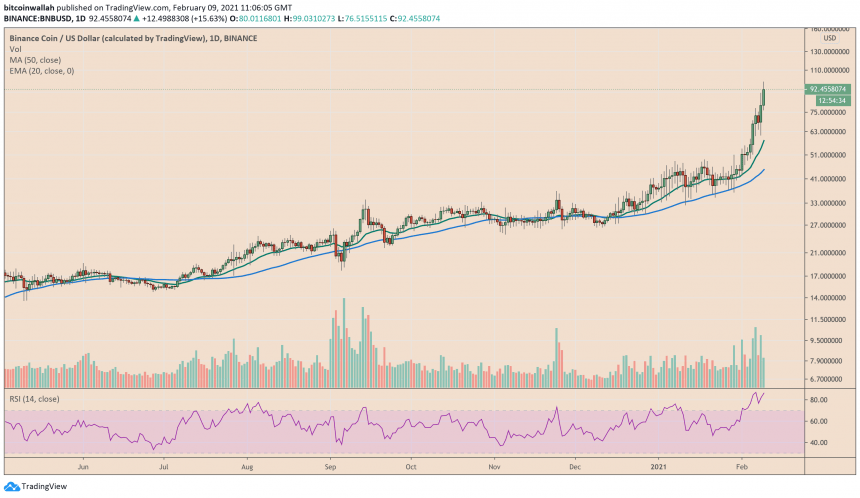 An ongoing bull run in the Binance market saw its native token BNB achieving another record high level on Tuesday.
The BNB/USD exchange rate rose by up to 23.77 percent to touch $99 for the first time in history as euphoria about growing cryptocurrency adoption among corporates and institutional investors grew among retail traders.
BNB, which serves as a gas token to pay for network transactions on the Binance Chain network, became a de-facto beneficiary of the ongoing crypto craze, as more and more traders sought Binance's exchange services to buy booming cryptocurrencies like Bitcoin and Ethereum. The speculation led BNB/USD up by 44.45 percent on a week-to-date timeframe.
Binance Coin hits an all-time high amid an ongoing crypto boom. Source: BNBUSD on TradingView.com
Technically, BNB maintained support above two crucial support areas.
First, the 20-day exponential moving average (the green wave) kept bears from taking complete market control. Second, the 50-day simple moving average (the blue wave) offered a backstop for bulls to reclaim the market should take the price break below the 20-DMA.
Such a correction looked more likely to happen due to Binance's unstable overheated levels. The cryptocurrency's latest push upside took its Relative Strength Indicator (RSI) into an overbought zone. It reflects by the RSI readings above 70 in the chart above. That amounted to a downside correction—deeper or modest.
Strong Fundamentals for BNB
BNB's latest wild upside move also coincided with Binance Labs' $2.4 million-investment into Polkadot-based innovative contract platform, Plasm Network.
That marked the venture capitalist's first major investment made using its $10 million reserves dedicated to Polkadot-only projects. Plasm is a multi-virtual machine scalable smart contract platform—a Polkadot parachain.
"We have been very impressed by Plasm Network's growth since its launch," said Wei Zhou, head of Binance Labs.
"The first parachain connected to the Rococo-V1 Parachains Testnet is one of the most promising parachain candidates for Polkadot mainnet. By investing and supporting Plasm, we are demonstrating our commitment to supporting the growth and development of [the] Polkadot ecosystem," he added.
As an investor, Binance Labs' growth intends to benefit it as an emerging crypto conglomerate. That raises speculation about BNB's role in future Binance undertakings, therefore upping its demand among long-term investors.
Tesla Boom
BNB is receiving a boost also from Tesla's decision to buy $1.5 billion worth of Bitcoin. In its securities filing, the American carmaker said it intends to use the benchmark cryptocurrency as an alternative to its cash reserves.
The statement validated Bitcoin's store-of-value narrative among institutional investors and corporations alike.
As a native token of a cryptocurrency exchange, BNB tends to benefit from larger retail volumes that may follow Tesla's announcement. That may have upped its demand in the short-term, as well.
Source link