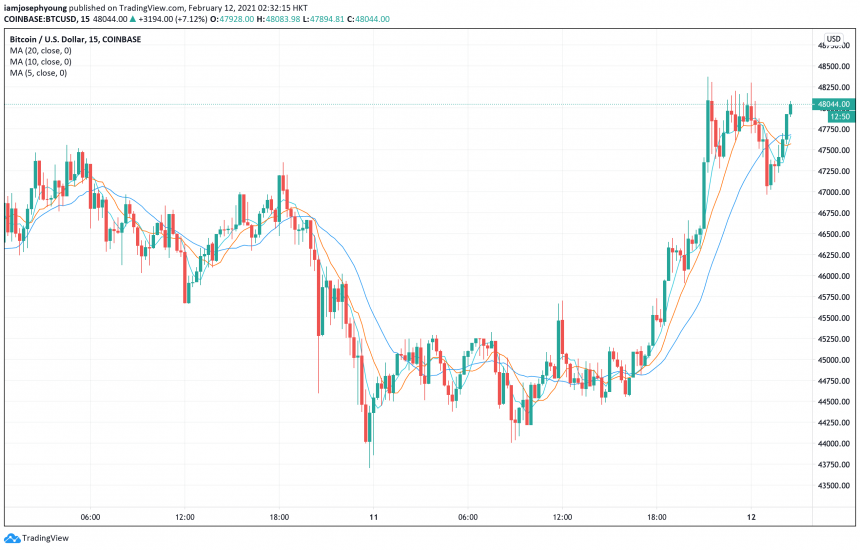 The price of Bitcoin has rallied to a new all-time high above $48,500 merely hours after it saw a large dip to around $43,800.
Bitcoin rose by 11.2% in the last 21 hours, posting a strong V-shape recovery in a short period.
What's fueling the Bitcoin rally?
There are three key factors behind the rally of Bitcoin to a new record-high.
First, the market structure of Bitcoin was not all that bearish when it started consolidating above $44,000.
Scott Melker, a cryptocurrency trader known as "The Wolf Of All Streets," said prior to the rally that Bitcoin's technical structure is not bearish.
I really hope you didn't let a single down candle yesterday shake you out of #Bitcoin. pic.twitter.com/322GbAJCSq

— The Wolf Of All Streets (@scottmelker) February 11, 2021
After consolidating for merely a day, Bitcoin broke out again, establishing a new bull trend after rallying above a bull flag seen above.
Second, there was positive news all around, with BNY Mellon entering the cryptocurrency market and Mastercard allowing its merchants to take crypto payments.
The two announcements caused the market sentiment around Bitcoin to improve, which was already at a high point after Tesla's $1.5 billion BTC purchase.
Third, BTC was showing signs of a new rally after stablecoin inflows into exchanges continued to increase.
When stablecoin inflows into exchanges increase, it suggests that sidelined capital is moving back into the Bitcoin market.
Atop this, analysts have also found that the Coinbase premium has increased substantially, indicating heightened buyer demand.
Lex Moskoviski, an analyst and quant trader, said:
"Coinbase Premium reached almost $500 two hours ago. That's even bigger than the FOMO of Tesla #Bitcoin news. Meanwhile, I see no significant news yet. Something's coming?"
What's coming next?
With Bitcoin at an all-time high, in the foreseeable future, it is important for Bitcoin to consolidate above $48,000.
Technical analysts have noted that the $48,000 level has a lot of stacked sell orders on Binance and other major exchanges, which is preventing a proper breakout.
Hence, when the $48,000 level gets breached cleanly, the price of BTC would likely make its way towards the $50,000 area.
One concern is that the funding rate of Bitcoin is hovering at around 0.2% across top futures exchanges. When the futures funding rate is this high, which shows the market is heavily overcrowded, the probability of a long squeeze increases.
A long squeeze can cause a sharp pullback in a short period, driving the momentum of BTC down as overleveraged long positions get unwinded in quick succession.
There is a risk of mass liquidations in the market in the near term, if the market does not reset.