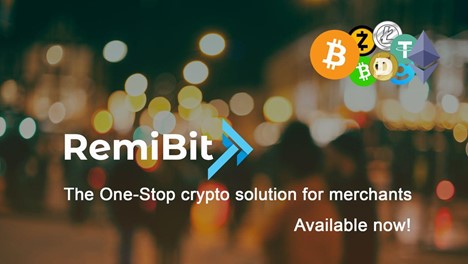 Etoro
Exchange Bitcoin
RemiBit Gives Control Back to The Users, How Any Business Can Receive Crypto Payments
There is a misconception around Bitcoin and cryptocurrencies stopping new users from entering the crypto space: they are hard to use and require technical knowledge. Most users have their first contact with crypto via a centralized entity, missing out on possibly its most powerful features: permissionless, decentralization, and sovereign control of your wealth.
RemiBit, a Bitcoin and altcoin payment solution, offers an arsenal of easy-to-use non-custodial tools based on crypto's foundational philosophy, Your Keys, your crypto. With RemiBit, users have 100% control of their funds and every transaction is peer-to-peer, going directly from wallet to wallet. This makes it impossible for bad actors to attack RemiBit and steal the funds.
RemiBit's suite of products is composed of a web app and a wallet, which can be accessed via a web browser or mobile device. Available for download on the Google Play and Apple Store, these products operate complementarity to cover all the range of crypto-based operations.
The user interface (UI) is simple and straightforward and displays RemiBit's features without the complexity of a typical crypto product. The RemiBit wallet has support for Bitcoin, Ethereum, Bitcoin Cash, Litecoin, Zcash, Tether (USDT) on Ethereum, Dogecoin, and Commercium. There are plans in place to expand its crypto offer.
A user can write any wallet's XPUB into the app or use RemiBit Wallet. This product is natively integrated with RemiBit's merchant app and RemiBit's additional features, everything in one place.
RemiBit Enables Crypto Payment In Seconds
Merchants, freelancers, businesses, and other professionals can leverage RemiBit's Invoice Generator and RemiBit Direct. Physical stores or on the move businesses can benefit from the Point of Sale features.
The Invoice Generator allows users to send and track invoices to a client. The payment is to be received in any of the supported cryptocurrencies.
On the other hand, RemiBit Direct is a Business-to-Business payment tool that allows two users to send and receive payments with the unique RemiBit ID. This is granted upon completion of the registration process, which is possible to complete in under 10 minutes.
Some of RemiBit's features are available for free with up to 500€ in monthly sales before a 1% fee applies. Others are available in the €19 and €39 with up to €3000 and €10000 monthly sales allowance and a 0.75% and 0.50% fee after that threshold, respectively. The products are available in Spanish, English, and Russian.
RemiBit has developed a partnership with exchange Kraken. Therefore, payments received with its product can have a fiat off-ramp. Kraken's security measures offer an adequate integration with RemiBit's web app. The user can enter the app, on the exchanges section, select Kraken, and take advantage of the InstaSell™ feature to deposit and sell cryptocurrencies with a simple one-step operation.
Additionally, RemiBit offers a REST API to allow users to implement a crypto checkout service with their businesses. Also, there are plugins for relevant e-commerce solutions, such as WooCommerce, PrestaShop, Drupal Commerce, OpenCart, Ecwid, OS Commerce, VirtueMart, Zencart, and others. More integrations could be announced in the future.
Source link