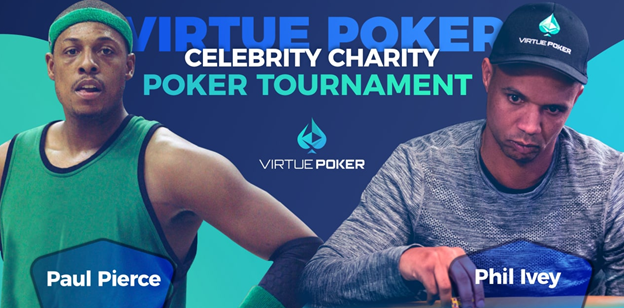 Etoro
Exchange Bitcoin
Celebrity Crypto Poker Tournament on Virtue Poker Platform to Be Live Streamed on Twitch
Virtue Poker will be organizing a high-value celebrity poker tournament to support charitable organizations. During the event, viewers can participate in giveaways and win rare NFT rewards.
Virtue Poker's Upcoming Poker Tournament Has a Lot to Offer for Everyone
Virtue Poker, funded by well-known industry investors, including Pantera Capital, ConsenSys, DFG Group, and more, is all set to host a celebrity poker tournament on its platform. The no-limit Texas Hold'em poker tournament will support charitable causes as twelve renowned celebrities battle it out for the top spot. In addition to winning rare NFTs, the event's winner gets to donate their winnings to any charitable organization of their choice.
While most participants' names are yet to be disclosed, Virtue Poker's upcoming tournament will include renowned influencers, celebrities, and industry leaders alongside poker veteran and Hall of Famer Phil Ivey and members of the Virtue Poker Pro team, Ethereum Co-Founder Joe Lubin, Founder and CEO of Ethernity Chain Nick Rose, NBA Hall of Famer Paul Pierce, and many more.
Overseen by CEO Ryan Gittleson, Virtue Poker delivers a provably fair online poker experience via a decentralized peer-to-peer poker platform deployed on the Ethereum blockchain. The decentralized poker platform, backed by ConsenSys, has already partnered with SuperFarm, a well-known NFT platform, to offer its IDO ahead of its mainnet launch.
Gittleson remarks, "Virtue Poker is excited to take this next step to drive awareness and adoption of the world's first blockchain-based P2P poker platform. Through our partnership with SuperStarter and our execution of our Celebrity Poker Charity event, Virtue Poker will be able to grow our community's foundation as well as showcase the platform to a broad audience."
The poker tournament will be broadcast on Twitch as well on the channels of the participants. Virtue Poker has kept the rules of the tournament pretty straightforward. A total of 12 players, including the celebrities and one community member each from Virtue Poker, SuperFarm, and Ethernity will sit at the table, battling it out head-to-head. Following the first round, only half of the players will move to the final table.
In addition to the high stakes, each participant will also receive a unique NFT powered by SuperFarm. These NFTs will also be used as chips in the tournament as 'bounty.' Winning players will be entitled to the NFTs of the players they beat during the event. Besides, viewers can predict the outcomes during the livestream and win amazing prizes.
Other than the charitable cause, the tournament will also include rewards and giveaways for the users streaming the event from their homes. From 'easter-egg'-themed giveaways to NFTs, users can win several prizes by watching the event live.
Per poker pro and team member Phil Ivey, "After working with the Virtue Poker team for over 3 years, I'm excited to see the platform launch and be part of their first live stream event on this innovative platform."
Source link